Welcome to 404 Coin

Specs:
Coin Name: 404 Coin (404)
Algorithm: Peercoin/Tulip Hybrid Fork / Proof of stake
Block Spacing : 180 seconds
Min/Max stake age 24 hours / difficulty determined
Supply: Unlimited
Confirmations before spendability: 30 blocks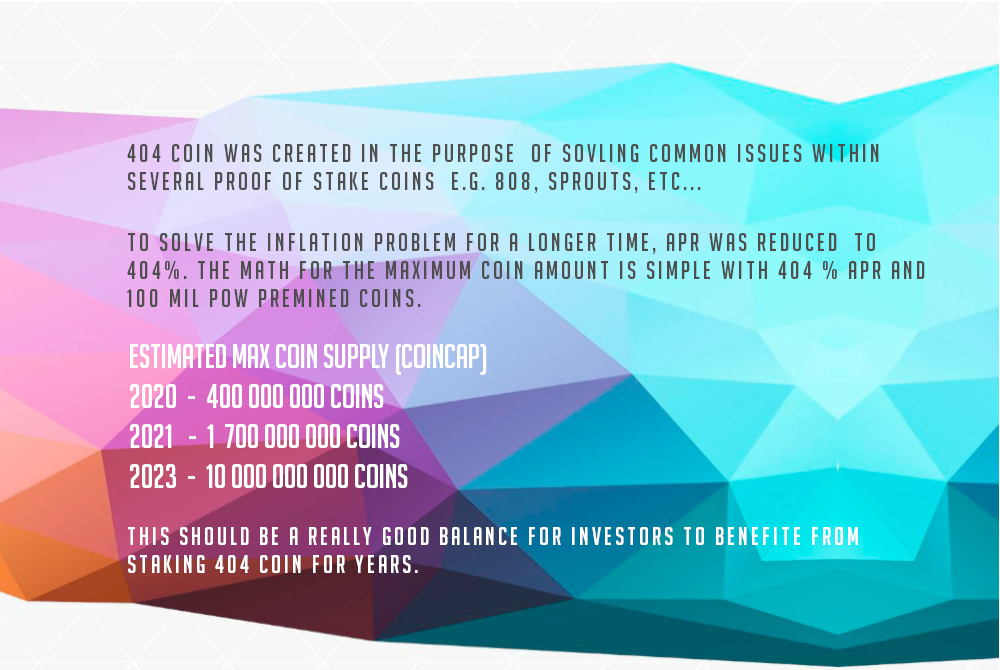 Proof Of Stake Block Rewards:

Wallet / Source:

Settings:
New auto sync feature removes need for manually changing 404coin.conf. No settings needed as it's all 100% automatic! Hoorah!

Faucets/Community



Exchanges:
Crex 24: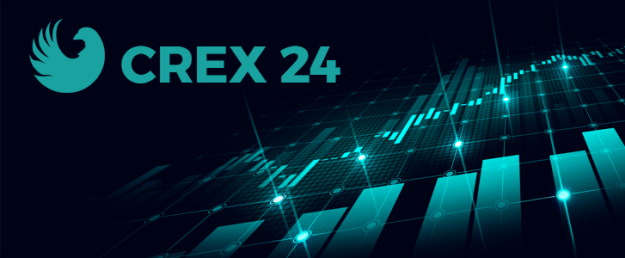 https://crex24.com/exchange/404-BTC
Btc Pop + Btc Pop Staking Pool Exchange:
https://btcpop.co/ (You must register and login to access everything)
Nuex:
https://www.nuex.com/exchange/market/404_BTC
https://www.nuex.com/exchange/market/404_XRP
Zarh Exchange:
https://www.zarhex.co.za/market/ZARH-404
Nort Exchange:
https://nortexchange.com/exchange/?market=404_DOGE (and many other pairs)
Staking Pool: https://www.4stake.com/?lang=en You must login to view it.
https://highpay-pool.com/ faucet and web miner browser. Supports Other coins as well.
Coinstake https://www.coinstake.in/
Orecoingames Crypto Gambling Site Accepting 404 Coin with Dozens Of Games! Explore a thrilling world of online casino non gamstop games. Also, With the option to use 404 Coin for deposits and withdrawals, players can enjoy seamless and secure transactions.
https://twitter.com/orecoingames/status/1194600794013798400
https://orecoingames.com

Block Explorer:

Frequently Asked Questions: FAQ
1. How do I stake? Just leave your wallet on and after 24 hours your coins are eligible to "stake" and mint. We call this "matures". There's a chance every 90 seconds your make crypto, if not, you wait and your chances get better over time. This applies to each individual stack/line in your wallet.
2. Do I have to leave my wallet open? Yes, to make crypto, but if it's not mature, you can turn off your wallet.
3. When do I stake? 24 hours or later
4. How is this related to 808 Coin/sprouts classic etc? The original proof of stake coins like sprouts classic, 808 coin, and tek coin were headed by Thundertoe and Mr.Eggman (both the same person). They openly admitted they don't know how to program, which is why their projects went nowhere and their coins were full of bugs, exploits, and no developer support, causing the coins to go down in price in free fall. We wanted to avoid that as future crypto currency adopters deserve and want a stable coin with good returns that won't "break" on them when bad actors come in and try to disrupt the crypto currency/bitcoin space. This is the future and we intend to bring everyone that wants it to go forward to a bright and happy future.
5. Supply may get out of control after 5-10 years plus? We may consider lowering APR to around 10-60% down the line. We won't have to worry about that until around 20 trillion coins, which will take a LONG time.
Things To Do:
Make the ANN thread better.
Continually grow streaming community.
Develop games and applications/services that use JMC Coin and 404 coin to create use cases like Binance Coin does.